Amarillo hops peaked my interest, as I'm a sucker for that citrus flavor in my beers.
Two of my all time favorite "craft beers", Blue Moon and Oberon, happen to be served with a wedge of orange. My guess is it's meant to help enhance the citrus flavor of the beer. Now I'm not a big fan of having a fruit garnish on my beer, but I do like that citrus flavor.
My goal with this BrewGround episode, is to only use Amarillo hops, and see what citrus impact that would have on flavor and aroma for a beer I brewed. The overall goal was to determine whether or not I wanted to use Amarillo hops, in conjunction with other hops in future brews.
Amarillo Hops
Amarillo is a dual purpose hop, which can be used for bittering as well as flavor and aroma.
Amarillo was really discovered by accident back in the early 90's. This hop has a very high Myrcene Oil content that helps drive that orange/grapefruit citrus aroma. It has been described as flowery with a distinct orange bouquet.
That should give me the aroma I'm looking for, but what about the taste?
Well, everything I've read about Amarillo hops screams orange. Not necessarily the taste of orange juice, but more like the zest of a sweet orange or tangerine. Exactly what I'm looking for.
Amarillo Wheat Ale
I decided to do this BrewGround using an American Wheat recipe, an Amarillo Wheat Ale. The thought process behind using an American Wheat for this trial, is to try and replicate my preference for wheat beers that are served with an orange garnish. Seemed good enough for me.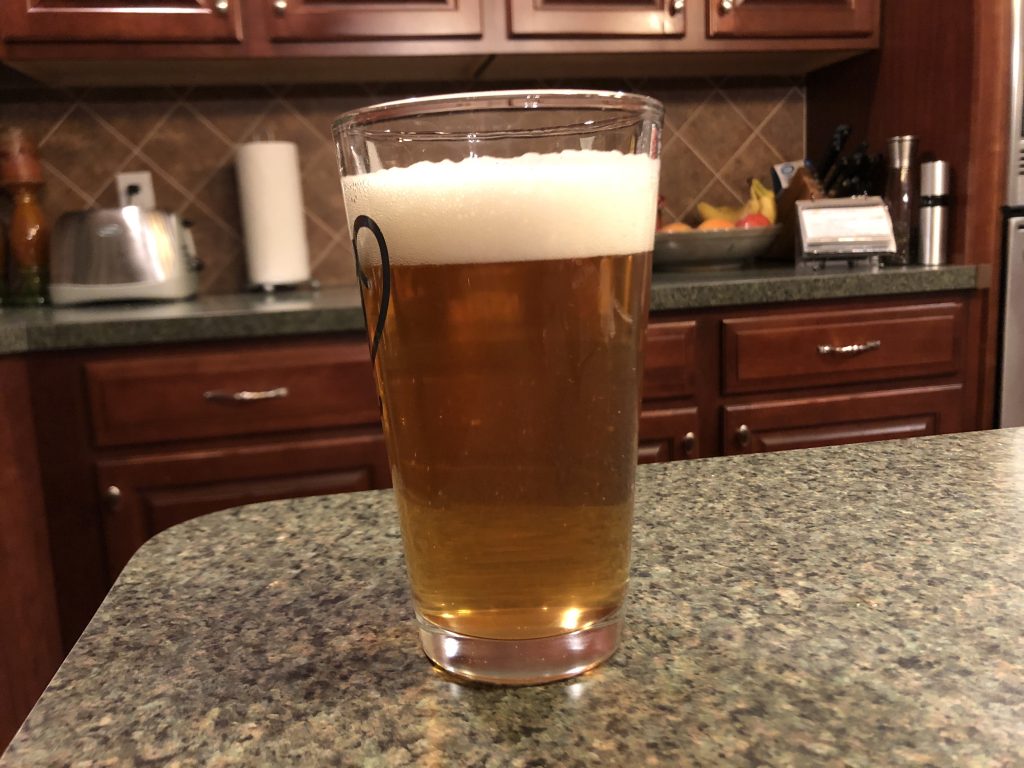 I went with a very basic recipe comprised of equal amounts 2 Row and White Wheat malt with a touch of Munich and Crystal for added flavor. I did not use my standard BrewGround process, instead opting to go with a 2.5 gallon batch using a no sparge process.
Recipe Details
Batch Size
Boil Time
IBU
SRM
Est. OG
Est. FG
ABV
2.9 gal
60 min
20.5 IBUs
5.0 SRM
1.047
1.010
5.0 %
Actuals
1.036
1.006
3.9 %
Fermentables
| Name | Amount | % |
| --- | --- | --- |
| Pale Malt (2 Row), Rahr | 2.25 lbs | 42.86 |
| White Wheat Malt | 2.25 lbs | 42.86 |
| Munich Malt - 10L | 8 oz | 9.52 |
| Caramel/Crystal Malt - 10L | 4 oz | 4.76 |
Hops
| Name | Amount | Time | Use | Form | Alpha % |
| --- | --- | --- | --- | --- | --- |
| Amarillo | 0.2 oz | 50 min | Boil | Pellet | 9.2 |
| Amarillo | 0.2 oz | 15 min | Boil | Pellet | 9.2 |
| Amarillo | 0.2 oz | 5 min | Boil | Pellet | 9.2 |
Yeast
| Name | Lab | Attenuation | Temperature |
| --- | --- | --- | --- |
| American Ale (1056) | Wyeast Labs | 75% | 60°F - 72°F |
If you're wondering why my actuals are so far off, I tried doing a no sparge process for the very first time, and took a huge hit on my efficiency. I'm going to attribute that to user error. I ended up substituting a gallon of spring water I had on hand for my normal RO water. Stupid move, as it fucked up my mash ph, and I'm guessing that carried forward to my efficiency problems.
After 10 days of primary fermentation at 65 degrees, I cold crashed for 12 hours before fining with gelatin. 24 hours later, I racked to a keg and let the beer condition for another 7 days at 45 degrees.
Note: You can tell from the picture that the beer didn't clear as much as I would have liked. For future clarifying, I'll cold crash for at least 24 hours before fining with gelatin to get the temperature down as much as possible.
Amarillo Hops Observation
The first observation made, I should have used more hops.
I'm not a huge fan of overly bitter beers, so I was a bit conservative on the amount of hops used, especially given this was an American Wheat. I didn't get that pronounced aroma and flavor that I was hoping for.
Here's what I perceived in my Amarillo Wheat Ale.
After the pour I let it warm slightly for 10 minutes. Figured that may help with detecting the aroma, and I need all the help I can get. I'm not a certified beer judge, so detecting hop aroma and taste is not something I typically do, and something I find somewhat challenging.
I should also add, I smelled and sampled across various days, trying to get as many opportunities as possible to distinguish the characteristic of this hop.
Aroma
I smell citrus, seems more like a sweet orange then a grapefruit, with a hint of floral notes. The longer I let it age, the more pronounced that citrus smell seemed to get.
Near the end of the keg, as I was taking huge wiffs of every glass, I was picking up more floral smells. Not that I think it was getting stronger, rather I was getting better at identifying the different aromas.
So citrus on the front with floral notes was what I was picking up.
Taste
This one was a bit more difficult for me, probably because of the conservative use of the hops I used.
What I tasted was malt, wheat malt to be exact, both on the front and finish. It was actually quiet good. The hop taste is very pleasant, not overly bitter. I do pick up a very mild citrus taste, nothing overpowering, almost weak. the floral notes I pick up are stronger to me then the citrus.
So I get the citrus aroma with more of a floral taste.
If I would have gone stronger on the hop dose, I'm sure I could have picked up more of that citrus taste.
Independent Samplers
I was curious what others could observe in my simple little Amarillo Wheat Ale, so I enlisted two independent samplers to smell and taste my beer. Both my wife and daughter (over 21), who are not big beer drinkers, got sucked into my little BrewGround analysis.
Both of my panelists seemed to easily identify a floral aroma. One of them got a hint of citrus, while the other wasn't able to identify any citrus aroma at all.
As for taste, they weren't much help at all. They both tasted beer. After I got them to focus, both were able to pick up a mild citrus taste, however one of them was still going back to her floral observations.
I'll keep working with them on that, and will use them in future BrewGround's.
The following charts break down both the aroma and flavor profiles of the Amarillo hop as judged by myself and two others. Granted the sample size is extremely small, but it helped me get a better perspective on using Amarillo hops.
And this is exactly what I set out to do.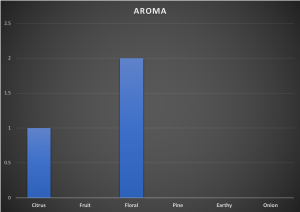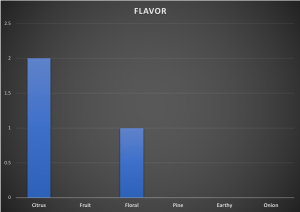 Would I Use Amarillo Hops Again?
Would I use Amarillo hops again in a future brew?
Absolutely yes! I would definitely use this hop for both aroma and flavor, in combination with other hops. I think using Amarillo as a dry hop addition would really bump the floral and citrus aroma.
Brewing a beer with only Amarillo hops told me this is a hop I absolutely want to keep on hand. While I didn't get as much of a citrus kick I was looking for, what I did get was a very pleasant non bittering hop that would go well with a number of different beer styles.
Cheers…