While I'm not a huge cider fan, it's nice having a variety on tap, and who doesn't love a hard cider in the Fall.
I've whipped up a few different batches of hard cider, and while they were good, I wouldn't say they blew me away. I wanted to try something different, something refreshing, and something that didn't taste like a dry apple wine.
As we were walking through an apple orchard one recent weekend, it hit me. Why not try to make a hard cider with cider, not store bought apple juice. So I proceeded to pick up 2 gallons of fresh cider, no preservatives, no additives, just 100% pressed apples.
I've tried back-sweetening with apple juice concentrate in the past, and it was just sort of meh. I wanted something a bit different, something that screamed Fall.
Apple Pie hard cider…
Apple Pie Hard Cider
I was definitely going to back-sweeten this batch, but I wanted to use something other then plain old apple juice concentrate. I saw some references to using brown sugar, and that peaked my interest. It seems like a natural fit, apples and brown sugar. Heck, throw a bit of cinnamon into the mix, and you almost have an apple pie.
This was a spur of the moment thing, and I had a limited selection of yeast on hand to play with. I ended up using WLP001 California Ale, only because it was the best fit based upon what I had.
The brew night started with a quick dump of the two gallons of cider into my small batch fermenter. I whipped up a quick vitality starter using 500 ml of cider to bring my California Ale yeast to life, and let that rest for a few hours as my cider came up to my basement temps.
Brew day complete!
3 days after pitching, there was a pretty robust krausen in the works.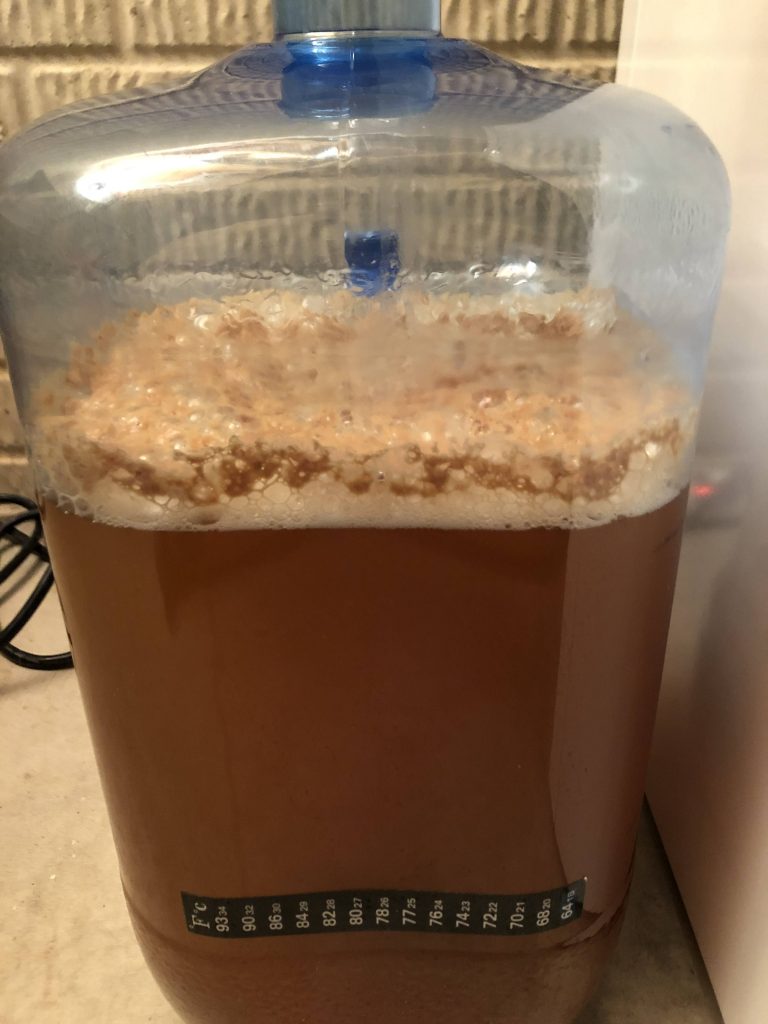 17 days post pitch, all visible signs of fermentation were complete. A quick gravity check showed a FG reading of 0.998.
On day 17, I added just under an 1/8 tsp of Potassium Metabisulfite, and gave the fermenter a gentle rocking to mix. Day 18, I added 1 tsp of Potassium Sorbate, and gave another gentle nudge. The mix of Potassium Metabisulfite and Sorbate, will halt any further fermentation in preparation for my back sweetening.
Day 19 I was ready to back sweeten and keg.
Back Sweeten
Since I'm going for the apple pie theme, I wanted to back sweeten with a mix of the following:
Brown Sugar
Apple Juice
Cinnamon
Nothing too crazy, just enough to sweeten the cider up with a hint of apple pie.
I started the process using 1 cup of brown sugar mixed with 1 cup of apple cider, thowing in 3 cinnamon sticks. Bring the mixture to a boil, and let simmer until the liquid is reduced in half.
Once that syrup was cooled, I added 1 can of frozen concentrated apple juice that was thawed.
Add the entire mixture to the keg (less cinnamon sticks), and rack the fermented cider over the top.
I purged the keg multiple times with CO2, placed it in my kegerator, and cranked up the pressure to 30 psi. 24 hours later, I backed things off to serving pressure, and let it sit for another week before tasting.
Apple Pie Hard Cider Tasting
So does the Apple Pie Hard Cider taste like apple pie? It's close, but not quite there.
After almost 3 weeks in the fermenter, and another 8 day's in my keg, there's still a slight haze. It's not what I would call cloudy, but not crystal clear either.
Taste is apple, through and through. Could be my imagination, but I feel the apple taste using fresh cider is more pronounced then using store bought apple juice. Would love to do a side-by-side comparison to see if there's a true difference.
It's just a touch too sweet for my liking. I wish I would have taken a gravity reading after I back sweetened, so I could put a number to that sweetness. If I were to do it again, I would have been more restrained on the apple juice concentrate. Keep the brown sugar syrup mixture, and only use a 1/2 can of apple juice concentrate.
What about that apple pie taste? The brown sugar helped, but I felt it could have used a more cinnamon to round out the taste. Next time I would double the amount of cinnamon sticks in the boil, from three to six, and maybe add a pinch of nutmeg.
All in all, this came out rather nicely. It's super refreshing, definitely tasty, and it's a nice change having something different on tap.
The American/California Ale yeast did a good job in a pinch, but I'd rather have gone with a Saison yeast or something more cider friendly.
Cheers…