Base malt, or brewers malt, is a staple ingredient in any beer that is brewed. Base malt can be found in a variety of different styles, and is traditionally sourced from two-row barley.
Whether you use Pilsner, Pale, Pale-Ale, or even Vienna malt in your beer, you've been using a base malt.
It's said, if you really want to understand the differences in base malts, you should do a base malt comparison taste test. This will help you understand how different base malts change the color, aroma, and taste profile in the beer you are brewing.
So after 18 months, and 22 all-grain batches brewed, I decided to finally do a base malt comparison test.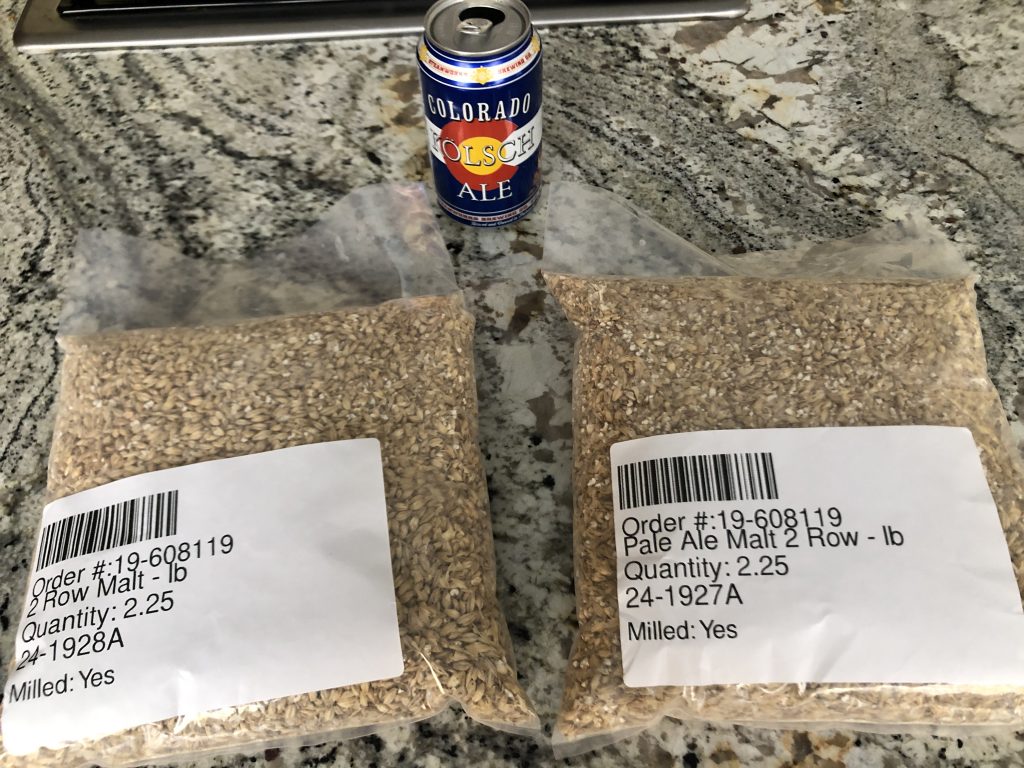 What Is A Base Malt?
Before we get into the base malt comparison test, let's talk about base malt for a minute. Base malt is the backbone of your beer. It's the canvas that you can build on.
Base malt provides the taste, color, and primary sugars (that will be fermented) to the beer you brew.
There are essentially 6 different base malts that one can use when brewing beer:
Pilsner Malt
Pale Malt
Pale Ale Malt
Vienna Malt
Munich Malt
All of the above base malts are made from two-row barley (usually), and kilned at a certain temperature and set time to give them a toastier appearance. The kilning gives each of these base malts a unique taste and color that's imparted on the beer you brew.
Base Malt Comparison Test
One of the things I've been wanting to do is a base malt comparison test. This would give me a better idea on the characteristics of certain base malts that I could use when I design my beers.
To keep things somewhat simplistic, I decided to use the following in my base malt comparison test:
Pale Malt (2-Row)
Pale Ale Malt (2-Row)
Maris Otter
The Pale Ale malt would be my control, and I would compare the taste characteristics of the Pale malt and Maris Otter against that. I chose the Pale Ale malt as the control, as I thought it would be right in the middle of the other two malted grains.
I broke the test into two parts. The first would focus on the taste characteristics of each of the base malts. At least what I was perceiving.
The second part of the taste test was doing the comparison. Pale malt compared to Pale Ale malt, and Maris Otter compared to Pale Ale malt.
SMaSH Pale Ale
I went with a simple beer, one where I attempted to highlight the malt profile. I decided to do a SMaSH Pale Ale, brewing three separate one gallon batches.
Each batch would use one of the base malts in my test, along with Simcoe hops that were added for bittering, taste, and aroma.
3 grams of Safale US-05 yeast was pitched into each batch, which was then fermented at 62 degrees Fahrenheit. I let each batch ferment for 14 days, transferred to a bottling bucket with the appropriate dose of priming sugar, and bottled. I forgot how much I hate bottling. These bottles were left to condition for another month before I began the taste test.
Some specifics of the recipe:
Original Gravity: 1.049
Final Gravity: 1.006
ABV: 5.7%
IBU's: 45
I should note that the above reflected the Pale Ale batch. Both the Pale and Maris Otter came in slightly below my OG and ABV targets.
The Taste Off
I was able to bottle 3 – 16 ounce Grolsch style bottles from each of my batches. This allowed me to conduct multiple taste tests over the course of the next month.
Overall the beer wasn't too bad. In hindsight, Simcoe may not have been the best hop choice, as it seemed to provide a bit too much hop kick that overpowered the malt.
Here are my taste impressions for each of the 3 malts used in my comparison test:
Pale Malt
Aroma, when I can get past the hop presence, is a touch of baked bread. Taste is bready with just a hint of sweetness. No detectable levels of nuts or toastiness.
Very clean taste that lets the hops shine.
Pale Ale Malt
Aroma, definitely more breadiness, which I was able to pick up on right away. Taste was amped up baked bread goodness with some biscuit flavors. Still not getting much of anything in terms of nutty or toasty flavors.
Maris Otter
Aroma is bread and biscuit. Taste has some mild sweetness and a mild malt taste. I pick up bread, biscuit, and some mild nutty notes.
Clean taste that is not overly malty.
Side-By-Side Comparison
The first side-by-side comparison that I did was with the Pale malt and the Pale Ale malt.
The aroma of the Pale Ale carried a bit more sweetness. The standard 2-Row, or Pale malt, made the hops stand out while the Pale Ale brought out more of the malt character. The Pale malt had a very pleasant malt taste, but the Pale Ale kicked it up a notch and added some additional biscuit flavors. Not over powering, but a hint of biscuit.
I would go with the 2-Row if simply looking to use a base malt along with some other speciality malts to add complexity. The Pale Ale brings a bit more flavor to the table IMO, and could stand alone better.
In a semi-blind taste comparison between these 2 beers, I was able to select the correct beer in 3 different taste tests, which at least to my perception tells me these two beers were easy to tell apart.
The comparison between the Pale-Ale and Maris Otter was a little more challenging.
The Pale Ale is nice and bready, and I get much of the same with the Maris Otter. The biggest difference is the Maris Otter has more biscuit notes and a hint of nuttiness that I don't get from the Pale Ale. The Pale Ale seems to be flatter in comparison to the Maris Otter with not as much malt character.
In my first taste of the Pale Ale, I was able to pick up on the breadiness immediately. However, after tasting the Maris Otter, and coming back to the Pale Ale, the Pale Ale just can't stand up to the MO. The Maris Otter brings out more of the bread and biscuit characteristics.
Charting The Taste
Who doesn't love charts? I created the following graph to show my perceptions of each of these malts across a few different taste categories.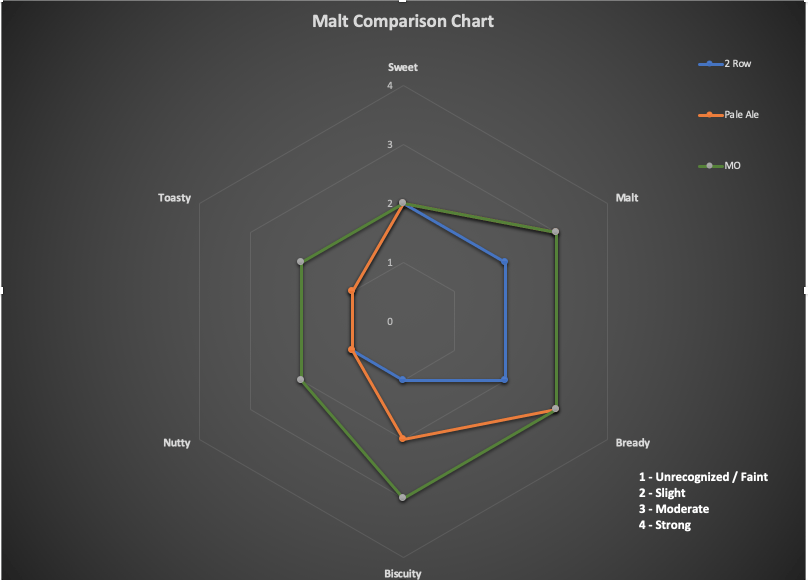 Some conclusions you can draw from the above base malt comparison chart.
All 3 of the malts reflected a slight sweetness. Both the Pale and Pale Ale had an unrecognized or faint toasty and nutty perception, at least to me. Finally, the Maris Otter tracks to the Pale Ale in terms of the malt and breadiness, however there was a slight nutty / toasty characteristic in the Maris Otter.
Overall, I found this little exercise helpful in evaluating the characteristics across these 3 different base malts. Definitely something I can use when designing future beers.
Cheers…