When I think of Easter, I normally associate it with Spring.
When I think of Spring, particularly when it comes to beer, I think of Oberon. Oberon Day 2020 was officially celebrated on March 23rd. So while I missed the official party this year, I'm not going to miss out on having a keg of Oberon on hand, even though it's just a clone.
Since we are on lockdown here in Michigan, we won't be making any family trips to celebrate Easter. Why not take advantage of some of this down time and brew up a Bell's Oberon Clone straight from the source.
Bell's Oberon Clone
I ordered myself an Oberon Clone from the Bell's General Store last weekend. The key to this clone, at least in my mind, is using Bell's house yeast, which you can get from Imperial Yeast. If you purchase this Oberon Clone from Bell's, you can get Imperial's A62 Bell's House Yeast along with the kit.
The kit includes everything you need to whip up a 5 gallon batch of Oberon:
2 Row Malt
White Wheat Malt
Munich Malt
Carapils Malt
Perle Hops
Hersbrucker Hops
Czech Saaz Hops
A62 Bell's House Yeast (not included in kit but can be purchased)
Bell's Oberon Clone Brew Day
After plugging the ingredients into BeerSmith, and following the recipe that came with the kit, I came up with the following for my profile:
Recipe Details
Batch Size
Boil Time
IBU
SRM
Est. OG
Est. FG
ABV
5.4 gal
60 min
31.2 IBUs
4.2 SRM
1.057
1.009
6.3 %
Actuals
1.049
1.01
5.1 %
Fermentables
| Name | Amount | % |
| --- | --- | --- |
| Brewers Malt 2-Row (Briess) | 6 lbs | 50 |
| Wheat - White Malt (Briess) | 5 lbs | 41.67 |
| Carapils (Briess) | 8 oz | 4.17 |
| Munich 10L (Briess) | 8 oz | 4.17 |
Hops
| Name | Amount | Time | Use | Form | Alpha % |
| --- | --- | --- | --- | --- | --- |
| Perle | 1 oz | 60 min | Boil | Pellet | 8.4 |
| Hallertauer Hersbrucker | 1 oz | 30 min | Boil | Pellet | 2.2 |
| Saaz | 2 oz | 0 min | Boil | Pellet | 2.8 |
Yeast
| Name | Lab | Attenuation | Temperature |
| --- | --- | --- | --- |
| Bell's House (A62) | Imperial Yeast | 79% | 65°F - 72°F |
The day before brewing, I treated my 8+ gallons of RO water, and crushed the 12 pounds of grains with my Cereal Killer.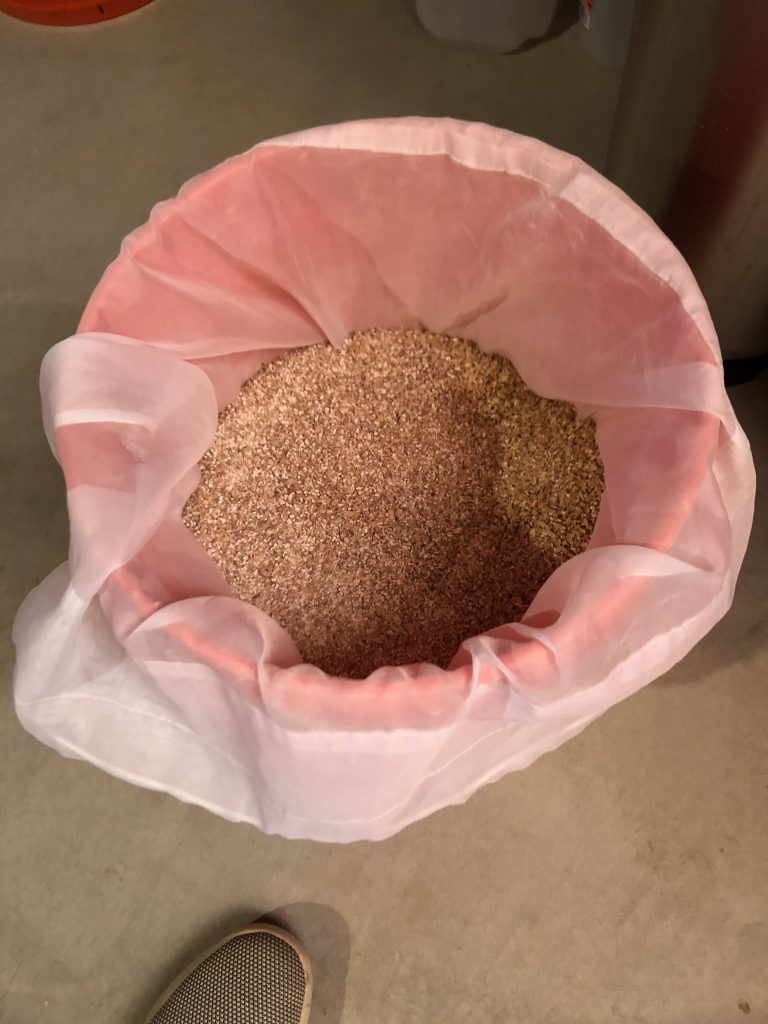 The brew day went somewhat smooth, even though I was trying to juggle getting an Easter dinner on the table.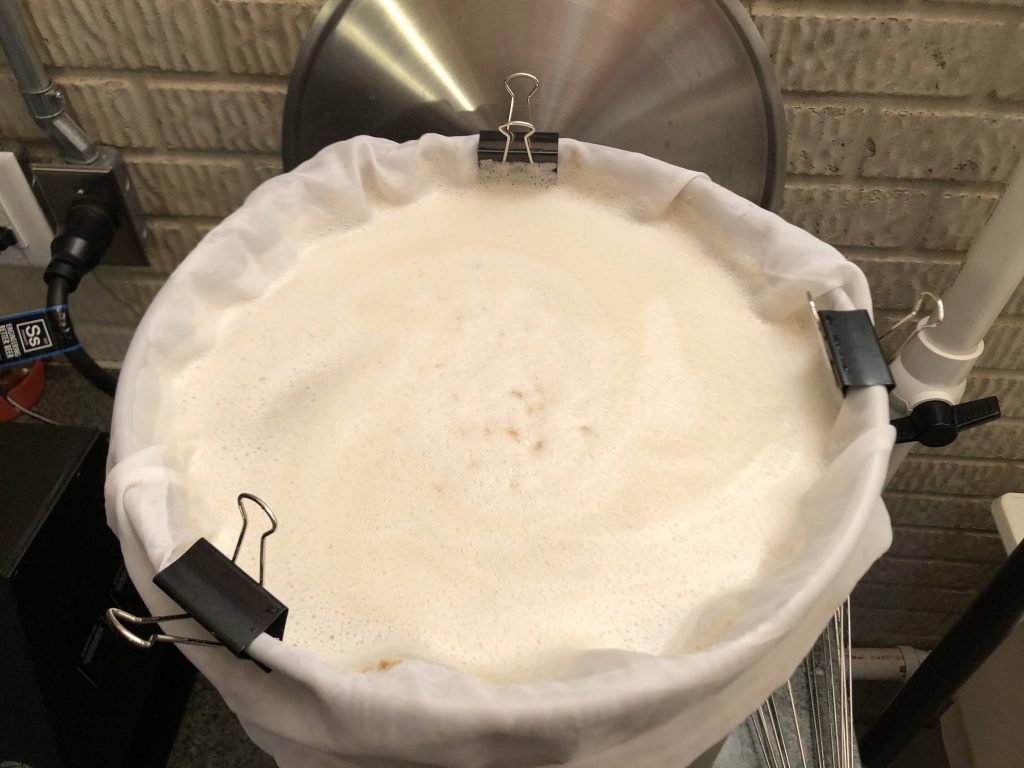 I've been consistently getting upwards of 68% – 70% when I started crushing my own grains. I followed the same process with this batch, but my efficiency suffered terribly, and I missed my numbers. The one change I made was to the overall batch size in the recipe, upping it by about 1/4 gallon, which I'm guessing is what caused my misses.
The one bright spot was using my new CUS.S Brewing Faucet Flow immersion chiller. I was able to chill my 6+ gallon post boil volume using my utility sink down to 75 degrees Fahrenheit in less then 15 minutes. Not quite as good as the stated specs, but better then what my old immersion chiller was capable of.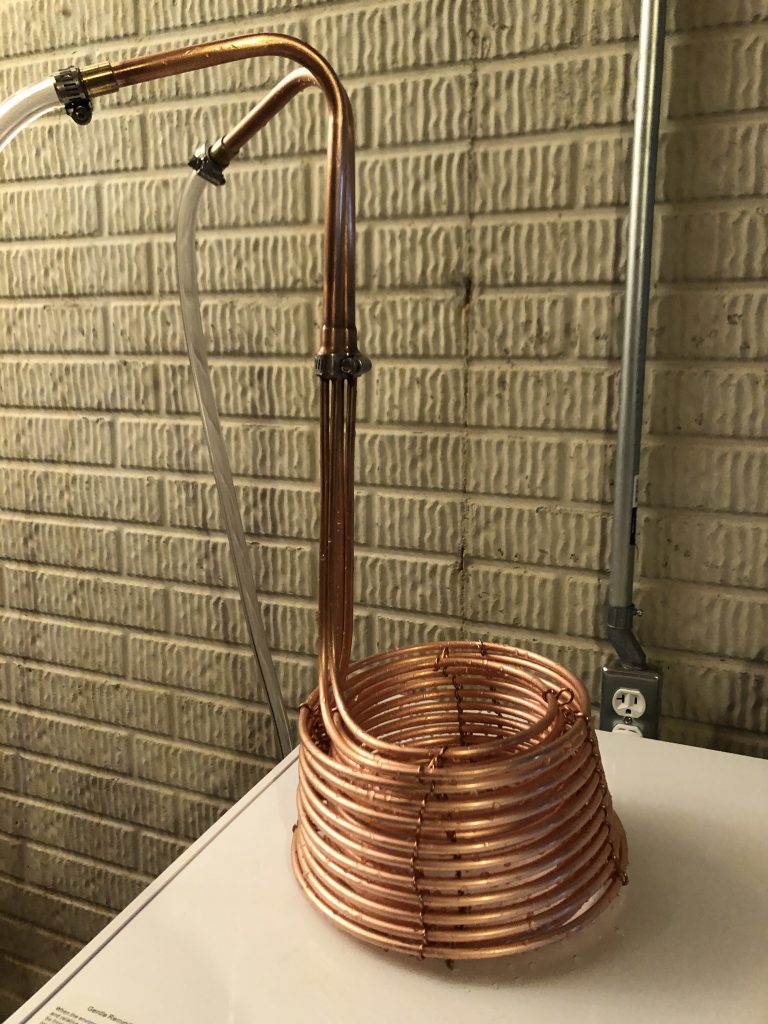 Anyway, it's in the fermentor and I'll be trying to maintain about 68 degrees Fahrenheit without the use of my fermentation chamber. Shouldn't be too difficult with a heating pad and my temperature controller using my thermowell.
Tasting
Well, after 10+ days in the fermenter, I was finally able to keg. I maintained 69 degrees for the first 5 days before ramping things up to 72 degrees. No cold crashing or fining since I lost my freezer (fermentation chamber) to freezing food, but I did let it condition for another 7 days before tasting.
My hopes weren't too high given the terrible miss with my efficiency. I was expecting a lackluster beer given my initial taste upon kegging.
Much to my surprise, this Oberon Clone actually turned out ok. While I don't have an actual Oberon to compare this to, I think it came out pretty close. The hop character is darn close to an Oberon, and it's very drinkable. It is missing some of the body that I would expect from an Oberon, but I chalk that up to my efficiency miss.
Edit: The key thing I discovered that was missing from my Oberon Clone, after comparing my clone to an actual Oberon was the fruity esters. I need to ferment a touch higher next time, closer to 72 degrees Fahrenheit.
I'll definitely give this recipe a shot again with a few tweaks (and tighter measurements). I'll up the Munich a touch, and ferment a bit higher. I really think using Bell's House yeast added that Oberon character, and I wouldn't use anything else for this beer.
Cheers…