Brew Your Own has a publication called the Big Book of Clone Recipes, which we will review in this post.
Why would I spend $20 on this book, when I can find any number of close recipes on the Internet? By the way, you can purchase this from Amazon for $20, instead of the $25 that Brew Your Own is charging.
Well number one it was a birthday gift, so I really didn't spend that money. Number two, these are official clone recipes, more on that in a bit. Given that, I'm not left guessing how authentic the "clone recipe" is I found on some site.
My review on the Big Book of Clone Recipes is based upon my initial examination of the book. Since I received this less than a week ago, I haven't brewed any of the recipes yet. I can tell you based upon my initial review of the book; I will absolutely be brewing up some of these clone recipes. Have already started planning my next brew day, and it will be something out of this book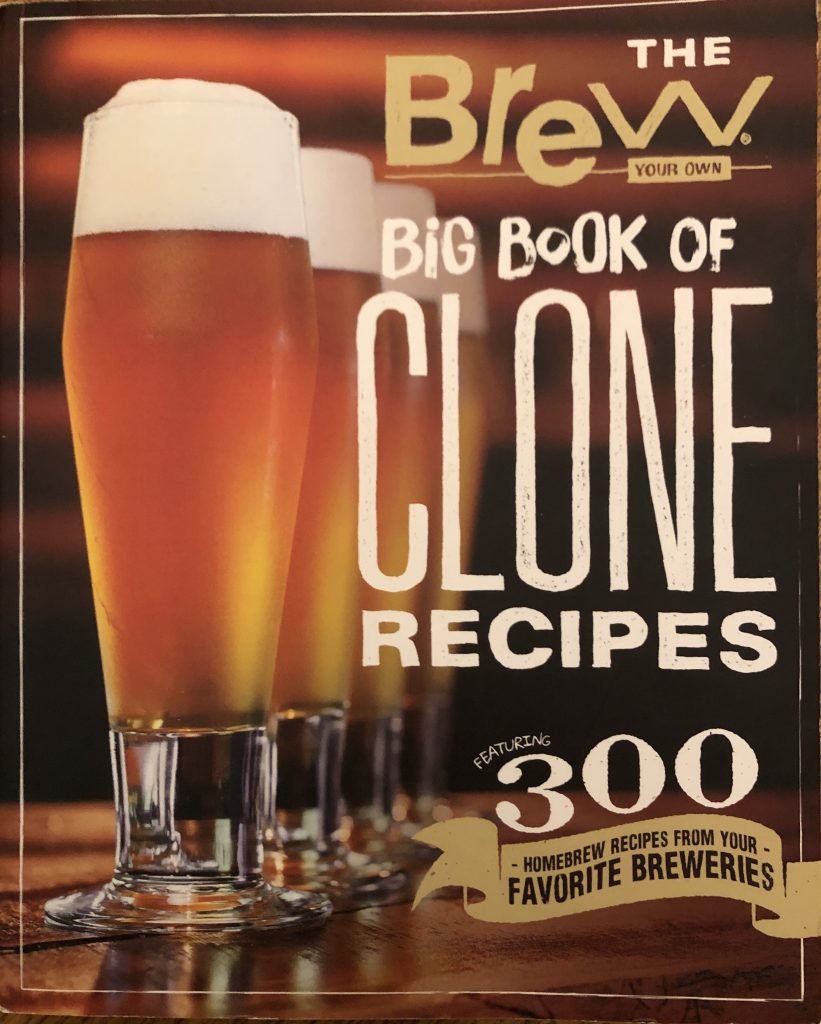 Big Book of Clone Recipes Review
There are over 300 clone recipes outlined for your reading pleasure, broken out into multiple categories.
Now these are not just some made up clone recipes. These clones were created in lockstep with the brewery that made the beer.
What sets these recipes apart from the thousands of clone recipes that circulate online is that these recipes have all been formulated in collaboration with, and in some instances have come directly from, the brewers who made the beers famous in the first place.

BYO – Big Book Of Clone Recipes
Not only that, but they've also been tested by BYO to get the clone as close to the original as possible.
They have been carefully researched, tested, and tweaked so the resulting beer will most closely resemble the beer that you are buying and trying to re-create.

BYO – Big Book Of Clone Recipes
So far so good.
There's also a small section on cloning basics which discusses how to follow the various recipes to recreate the beer you are aiming for. Once you've brewed one of these clones, the book also offers some advice on how to evaluate that clone in comparison to the original beer. Most of the tips are pretty logical, but I did pick up a few things that I hadn't thought about.
Finally, there's a recipe standardization guide.
Clone Recipes Included
So, what about the clone recipes? What clones are included in the Big Book of Clone Recipes?
Like I said earlier, the book is broken into sections that highlight different beer styles. I'll highlight each of the styles included and give a few examples of the clone recipes within each style.
Each clone recipe gives a brief description of the beer, and highlights the expected OG, FG, IBU, SRM, and ABV. All are assumed to be 5 gallon batches.
The clone recipes include all the ingredients you need to recreate the original beer:
Malt in Pounds and Ounces
Hops in Ounces
Yeast (Lab and Strain)
Other Ingredients as needed
I kind of wish they would have included the percent of each grain in the grist, for those of us that want to scale up or down. One less step needed to convert.
In addition to the ingredients, the recipe has a step-by-step guide that takes you through mashing and boil times and calls out anything special you should be following. The majority of recipes also have instructions for those doing partial mash or extract with grains.
Some recipes also include a "Tips for Success" section. These may be certain tips the brewer has highlighted, or a note on if it's acceptable to substitute one maltster for another.
Note: If you're looking for a number of international beers, you may be disappointed. Most of the clone recipes included here are from U.S. Breweries.
Here's a brief look at some of the clone recipes included, broken out by style.
Pale Ales
The Alchemist: Moose Knuckle Clone
Pulled from the files of the Alchemist Pub & Brewery, prior to the 2011 flood from Hurricane Irene, which forced the closure of the original brew pub.
Trillium Brewing Company: Fort Point Pale Ale Clone
Described as having layers of hops-derived aromas and flavors.
India Pale Ales (IPA's)
Alesmith Brewing Company: Alesmith IPA Clone
Filled with aromas of grapefruit and tangerine, fresh pine, and tropical fruit.
Firestone Walker: Union Jack Clone
Double dry hopped and smooth, this beer delivers bold grapefruit, tangerine, and citrus.
Specialty IPA's
The Alchemist: Heady Topper Clone
Featuring a proprietary blend of 6 hops, this double IPA boasts a complex and unique bouquet of hop flavor without any astringent bitterness.
Dogfish Head: 90 Minute IPA Clone
Brewed with a continuous hopping technique, adding hops throughout the boil. Been called the best Double IPA in America.
Amber Ales & Lagers
Alaskan Brewing Co: Amber Clone
Rich and malty and long on the palate.
Brown Ales
Bells Brewery: Best Brown Ale Clone
Smooth toasty brown ale with aromas of caramel and cocoa.
Porters
Oskar Blues Brewery: Death By Coconut Clone
Packed full of intense malt flavor and then infused with pure liquid cacao and loads of dried coconut.
Great Lakes Brewing Co: Edmund Fitzgerald Porter Clone
A rich, robust, complex ale that has won a dozen medals over the years from the World Beer Championships.
Stouts
Sierra Nevada Brewing Co: Stout Clone
Big, rich, bold, and black as night. A favorite.
Summit Brewing Co: Rebellion Stout Clone
Limited time release foreign extra stout was brewed based loosely on a recipe from 1896 taken from the archives of an old Cork, Ireland brewery.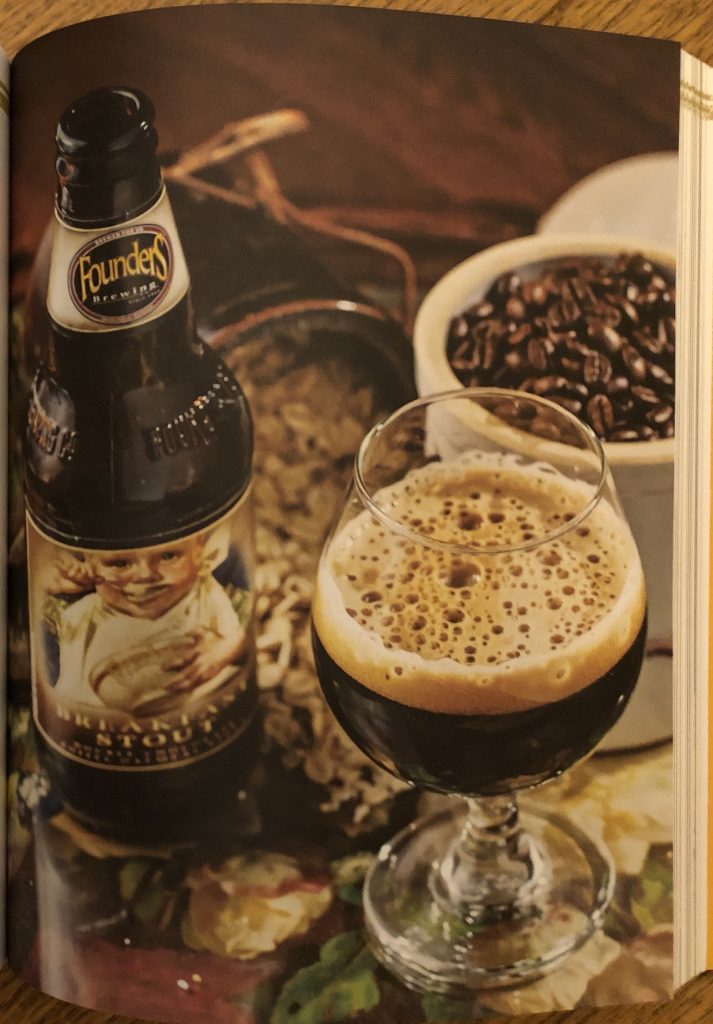 Imperial Stouts
North Coast Brewing Co: Old Rasputin Russian Imperial Stout Clone
Nugget, Northern Brewer, and Centennial hops
Victory Brewing Co: Storm King Imperial Stout Clone
Thundering hop presence that meet their match with a rich malt bill full of espresso and dark chocolate flavors.
Barley Wine & Strong Ales
Great Divide Brewing Co: Old Ruffian Clone
A hefty, hop-forward barleywine with subtle fruit aromas and complex caramel sweetness.
Belgian Style Ales
Allagash Brewing Co: Curieux Clone
A very complex beer, yet the recipe is on the simpler side.
A quick side note mentioned. Allagash uses their own proprietary strain of yeast. If you are going for that true clone, you can propagate the Allagash house yeast from a bottle of Allagash White. Their other beers add an additional yeast strain added before packaging.
British Style Ales
Some non-U.S. brewery clones.
T&R Theakston Brewery: Old Peculier Clone
The beer that made Masham, England famous. Old Peculier is rich, dark, and smooth tasting with a character all its own.
Timothy Taylor Brewery: Boltmaker Clone
Redhook's flagship beer, with a caramel malt sweetness and subtle spice and fruit hop flavors.
European Style Ales & Lagers
Brauerei Aying: Ayinger Celebrator Clone
A malty doppelbock that shows off a distinct chocolaty malt character.
Paulaner Brauerei: Paulaner Hefe-Weizen Clone
A well balanced example of a hefeweizen and a benchmark of the style.
North American Ales & Lagers
Flying Fish Brewing Co: Farmhouse Summer Ale Clone
A crisp, slightly sour beer that uses a sour mash.
Indeed Brewing Co: Mexican Honey Imperial Lager Clone
A golden lager with a subtle malt backbone packed with floral notes of orange blossom and citrus.
Extra credit for including the following clone recipes:
Heileman's Old Style Light
Schlitz Gusto
Labatt Blue
Rolling Rock Extra Pale
Hamm's
Pilsners
Bitburger Brewery: Premium Pils Clone
A classic pilsner with just two malts and one hop addition.
Samuel Adams Brewing Co: Noble Pils Clone
A seasonal release that uses all 5 noble hops.
Fruit, Spice, & Vegetable Beers
Sea Dog Brewing Co: Wild Blueberry (Blue Paw Wheat Ale) Clone
A wheat beer with subtle aroma and flavor of blueberries.
Sour, Wild, & Wood Aged Beers
Funkwerks: Raspberry Provincial Clone
A tart fruit beer that features a citrusy, raspberry aroma.
Winter Beers
Harpoon Brewery: Winter Warmer Clone
Cinnamon and nutmeg dominate the aroma, with a strong malt backbone.
Odell Brewing Co: Isolation Ale Clone
A refreshing beer with a crisp hop finish and modest ABV.
One of the clone beers I didn't call out above but wanted to reference here is Guinness Draught. Again, what I really like about this book is it gives you little tips for some of the recipes. In the case of this Guinness Draught clone, this tip included:
To get that "Guinness tang", after pitching the yeast pull 19 ounces of pitched wort to a sanitized 22-ounce bottle. Pitch bottle with a small amount of Brettanomyces and Lactobacillus. Cover and let ferment. After fermentation completes, pour into a saucepan and heat to 160 degrees for 15 minutes. Cool the beer, cap the bottle, and refrigerate. Add the contents of that bottle prior to packaging.
Kind of a cool tip I thought.
Summary
Did you find this review of the Big Book of Clone Recipes helpful? Feel free to leave a comment if you are looking for more information.
Am I happy with this book? Heck yeah! I only hit on a fraction of the clone recipes that are included in the book. There's a ton of recipes to choose from, and while I won't be brewing everything here, there are definitely a handful that I'll be trying out.
This is going to be a great reference book if nothing else. I can take inspiration from some of these tried and true recipes, and tweak them to my hearts content.
Cheers…