I'm not one that typically goes around tooting my own horn when it comes to my homebrew recipes, but this is one I just had to share.
I set out to create a German Pilsner recipe, one that wasn't overly hoppy. The result was without a doubt my best homebrew to date.
What made it so fantastic? The crisp lager taste, and a nice malt profile balanced by German and, well Czech Hops. Not too malty or hoppy, just to my liking.
The best thing about this German Pilsner recipe? You can brew it without having a sophisticated fermentation setup, and it doesn't take months to enjoy it.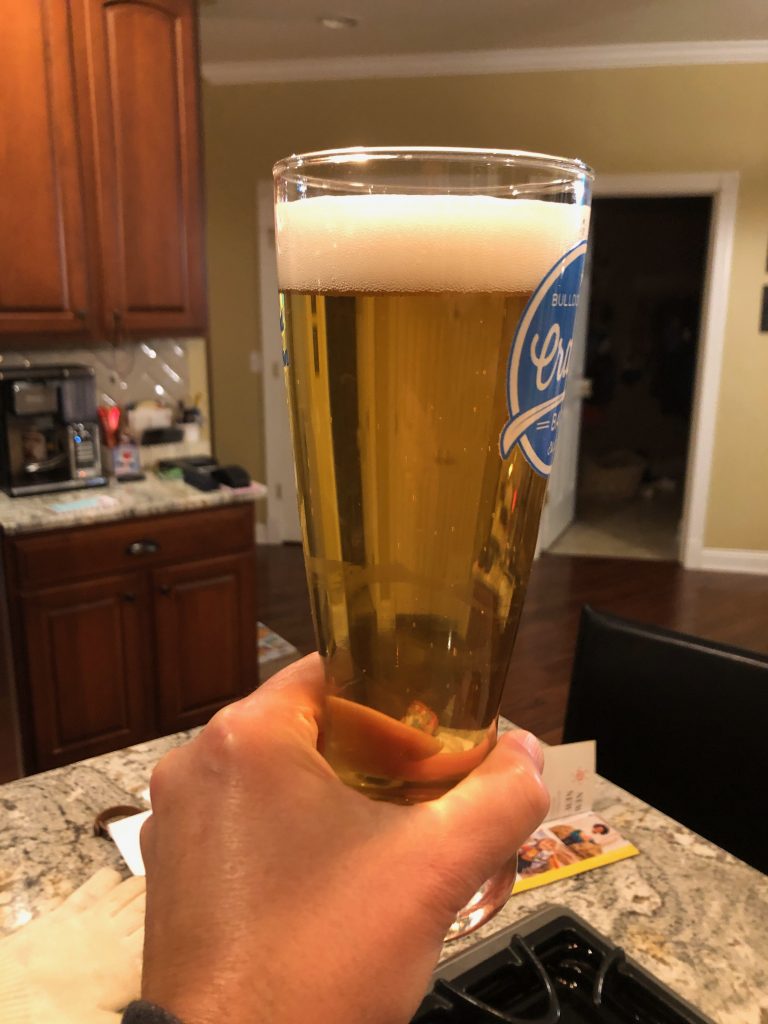 Not So Hoppy German Pilsner Recipe
My search for a German Pilsner recipe started by scouring the Web looking through existing recipes. My search eventually took me to the Brew Guru app from The American Homebrewers Association. A quick look through the German Pilsner recipes in that app got me close, but I still needed to do some tweaking.
My German Pilsner recipe is fairly simplistic, and consists of only German Pilsner and Vienna malt. The Vienna made up just under 10% of the grist, and was added to provide that additional malt character that I crave.
As for the hops, needed to keep them German in nature, so I went with a combination of Perle and Saaz hops. Perle was used as both a bittering and middle addition, to pave the way for the spicy character that Saaz would bring to the table. Saaz was added as both a flavor and aroma addition, at the 10 and 2 minute mark.
Both the mash and boil was limited to 60 minutes.
Recipe Details
Batch Size
Boil Time
IBU
SRM
Est. OG
Est. FG
ABV
3.2 gal
60 min
32.9 IBUs
2.9 SRM
1.049
1.011
5.0 %
Actuals
1.047
1.008
5.1 %
Fermentables
| Name | Amount | % |
| --- | --- | --- |
| Pilsner (Weyermann) | 5.5 lbs | 91.67 |
| Vienna Malt (Weyermann) | 8 oz | 8.33 |
Hops
| Name | Amount | Time | Use | Form | Alpha % |
| --- | --- | --- | --- | --- | --- |
| Perle | 0.6 oz | 60 min | First Wort | Pellet | 7.2 |
| Perle | 0.2 oz | 30 min | Boil | Pellet | 7.2 |
| Saaz | 0.5 oz | 10 min | Boil | Pellet | 2.8 |
| Saaz | 0.5 oz | 2 min | Boil | Pellet | 2.8 |
German Pilsner Water Profile
Ca 42 Mg 5 Na 0 SO4 75 Cl 34
Fermentation
I used an overbuilt starter of WLP830 German Lager yeast I had harvested from my previous Vienna Lager. I did a 2L starter once again, and saved off the excess for another brew day.
Fermentation was kept very simple using my easy lagering method. I cooled the fermenter in an ice bath, and was able to maintain a mid 50's F fermentation temperature (beer temp).
After 7 days, all signs of fermentation had ceased, and I stopped the ice bath to gradually start increasing the temperature. I left the fermenter alone for another 4 days before cold crashing and fining with gelatin.
Final step was a quick lagering period of 12 days, on gas in my kegerator. Perfect timing as I would be off to Hawaii for the holidays.
The Verdict
I have a tendency to rush my beers, since I'm so damn anxious to taste my new creations. Given that I was off on vacation, I was forced to let this lager a bit longer then what I would have typically done. That paid off!
I couldn't wait to sample this Pilsner upon my return! It was as clear as any commercial / craft beer I've purchased. The taste was spot on, and as good as any Pilsner I've sampled.
I was expecting a bit more hop bite, being I used almost 2 full ounces in a 3.25 gallon batch. What I got was a very balanced taste. Not too malty, not too hoppy, with just enough malt taste on the back end.
If you're looking for a great tasting and easy drinking beer, give this German Pilsner recipe a shot. It's well worth it. If you do end up brewing this, please let me know what you think.
Cheers…