After bottling my second batch of homebrew, I quickly realized that if I was going to continue with this little hobby I was going to have to find an alternative.
A friend pointed me in the direction of kegging, using Corny kegs as a receptacle for the beer in lieu of bottles. After a bit of research, I kissed my bottling days goodbye, and embraced kegging my homebrew as the primary means of serving my beer.
Ah… but one little problem. How the hell do I serve my beer and keep the keg cold without a Kegerator or Keezer?
As luck would have it, I had a spare refrigerator in the garage that would do in a pinch. This worked fine for a while using a picnic tap as the primary means to dispense the beer. Unfortunately with the cold Michigan winters, I started having a problem with the beer being too cold and actually starting to freeze.
I needed something else. I either needed to invest in building a keezer or go out and buy a kegerator. Which path to choose?
My initial intent was to build a keezer, logic being that this would be far cheaper then purchasing a new kegerator that could serve multiple beers. After doing some analysis, I soon realized that doing a keezer build wasn't going to be any cheaper then purchasing a kegerator, in fact it may even be more expensive.
With that, I give you my kegerator vs keezer cost comparison analysis.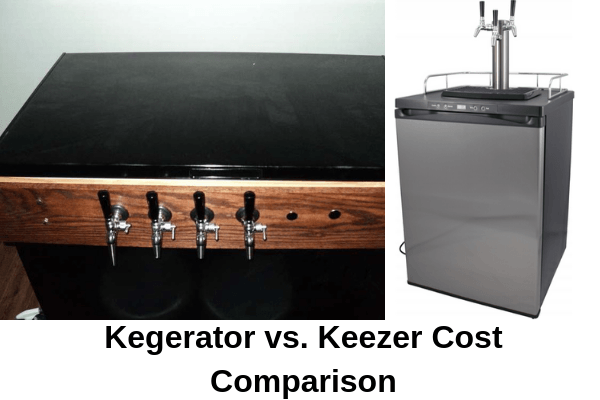 Kegerator vs Keezer Cost Comparison
I really wanted to build a keezer. It would be a fun project. I could customize it to my hearts content. I could have as many taps as I wanted, and it was going to be cheaper then buying a new kegerator.
The kegerator on the other hand is a kegerator. It was built to serve beer. The clean looking refrigerator compartment, the chrome tower and faucets all scream beer me!
In my opinion, a kegerator it a much nicer design and looks like it belongs. That's not saying there are some slick looking keezer builds out there, but given where you plan on serving your beer, this is something you want to keep in mind.
Luckily I'm fairly anal when it comes to investing a huge sum of money, so I set off on my kegerator vs keezer cost comparison research.
I was quite surprised on how quickly the costs added up in building a keezer. At the end of the day, I wasn't going to save any money building a keezer vs purchasing a brand new 3 tap kegerator.
Kegerator Cost
For my comparison, I used the Kegland Series 4 Kegerator. This can now be purchased from MoreBeer under the KOMOS V2 Kegerator name.
If you're looking to purchase a kegerator, you have some options. Kegerators are available in single, double, or triple tap units. Some Kegerators include a fan to cool the tower and beer lines which will help to reduce foam while serving. Other units have temperature control options for you to dial in the serving temperature of your beer.
The beauty of going the kegerator route is that everything is included in a single unit. The taps, gas lines, beer lines, and drip tray are typically all included. If you look hard enough, you can even find a kegerator that includes premium forward sealing faucets like Peralick or Intertap.
Expect to pay anywhere from $400 for a single tap no frills unit, all they way up to $1,700 for a three tap electronic temperature control model.
Keezer Cost
A keezer build on the other hand can be totally customized to your liking. You can add an endless number of taps, provided you have a freezer large enough to accommodate the kegs for those taps. A keezer can also be stained or painted to match pretty much any design theme you have in mind.
If you're planning on having more then 3 taps in your setup, a keezer build is probably your only option.
The disadvantage with building a keezer? You have to buy the individual components and assemble it. While I'm not knocking that, what I am saying is those components seriously add up fast, and it may be cheaper going the kegerator route.
So what about the kegerator vs keezer cost comparison?
Kegerator vs Keezer Cost Analysis
As I mentioned previously, I did some analysis when I was looking at building my own keezer. Those costs added up quickly, and I soon found I could purchase a 3 tap kegerator cheaper then building a keezer. It wasn't a lot cheaper, but I could have something up and running a whole lot sooner then building a keezer.
A few points I'll make about my kegerator vs keezer cost comparison. I was trying to keep things as even as possible. I wanted premium faucets, the same number of taps (3), and the ability to cool at least three corny kegs. I also wanted premium, or at least very good quality tubing for the gas and beer lines.
The Kegerator I was using for my comparison was the Kegland Series 4, which I could pick up for $659 from MoreBeer. I would need to make some modifications as the tubing supplied with this unit was shit. I also added a 4-way gas manifold instead of using the T's that were provided. More on why I went with this Kegerator and the upgrades I did.
One advantage in purchasing this unit from MoreBeer is they included a dual-gauge regulator with the purchase. Now I didn't really need this, as I had a regulator from my previous set up, but having another regulator isn't a bad thing.
I should also add there are other costs that you will need to consider:
I didn't factor this into the cost analysis, as you'll need to purchase these items for either the Kegerator or Keezer, and factor that into your overall cost.
Cost Breakdown
Here's a breakdown of the kegerator vs keezer costs that I pulled together.
Keezer Build Cost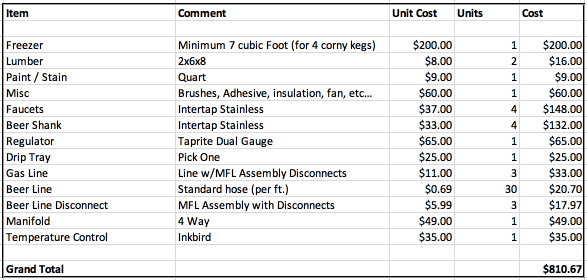 I came up with an estimate of just over $800 to build out a 4 tap kegerator, using premium stainless faucets.
Note: This does not include the costs for the kegs or CO2 tank.
You may be able to save a bit of money by purchasing a kegerator kit that you can customize to your liking. These kits include all the internal parts required from the taps to the beer and gas lines. These kits can be purchased online, and Keg Connection has a pretty good selection that can be customized.
Kegerator Purchase Cost

On the flip side, I was able to purchase a 3 tap Kegerator and customize it to my requirements for just under $800.
Again, this doesn't include the cost for the kegs or CO2 tank.
Conclusion
So bottom line, I was able to save a few dollars by purchasing a brand new Kegerator over building my own Keezer.
I could have brought the Keezer cost down even more by going with cheaper faucets or forgoing the stainless option. That's always an option if you are looking to save a few bucks.
The tipping point for me, was the time saved in being able to serve my beer.
With the Keezer build, I would have needed to find the time on the weekends or after work to put the damn thing together. While that did sound appealing, it was a whole lot easier unboxing the Kegerator and plugging the thing it.
Reach out in the comments below if you have any further questions. Happy to try and answer them.
Cheers…
Credits:
Keezer pic courtesy of Bottle To Barrel.