Saaz is considered a noble hop, known for their very distinct flavor, but what's so special about the Saaz hops profile?
First, what's a noble hop? How about a very traditional variety of hop that was used in the early days of European brewing. If you're counting at home, there are four noble hops:
Hallertau
Saaz
Spalt
Tettnang
While the Saaz hops profile is traditionally targeted for use in Czech Pilsners, I was really more interested in understanding the flavor and aroma profile I could coax out of a noble hop, specifically Saaz hops.
Now this is a huge change from my previous BrewGrounds that seemed to focus on American hops that imparted a citrus profile in the beer. I was excited to change things up a bit, and try something a little less citrusy.
This BrewGround will use Saaz hops, for the bittering, flavor, and aroma additions, to see what impact that hop would have on flavor and aroma for a beer I brewed. As with all my BrewGrounds, I'm really aiming to educate myself in the different profiles various hops impart on the beers I brew.
Saaz Hops
The primary purpose of the Saaz hop is for aroma. Saaz has been grown in the Czech Republic for 100's of years, and is named after the city of Zatec (Saaz in German) where it was originally founded. It accounts for over 2/3 of the hop production in the Czech Republic.
Saaz is not a bittering hop, and is mainly used for aroma, however it can add a delicate bitterness to the beer if used as an early addition in the boil. The flavors and aroma of the Saaz hop is considered very delicate, and adds an earthy, herbal, and spicy characteristic to the beers it's used in. You'll find Saaz is primarily used in Bohemian Lagers and Pilsners, and if you've ever tasted a Stella Artois, you've experienced the Saaz hop.
I'm ready to give this one a go…
Munich Helles With Saaz
I decided to go with a single hopped Munich Helles as the base for this BrewGround. While I could have gone with any of the noble hops, I elected to focus on the Saaz hops profile as that one appealed to me the most.
The Helles was made up of mostly Belgian Pilsner, with some Munich and just a touch of Melanoiden malt thrown in for a touch of sweetness.
I did not follow my normal BrewGround process, instead using my normal small batch brew process to crank out a 2.5 gallon batch. I wanted a bit more beer on hand, as I was dying to have a Munich Helles on tap that I could enjoy for a bit.
Recipe Details
Batch Size
Boil Time
IBU
SRM
Est. OG
Est. FG
ABV
2.9 gal
70 min
17.7 IBUs
4.9 SRM
1.048
1.012
4.7 %
Actuals
1.038
1.006
4.2 %
Fermentables
| Name | Amount | % |
| --- | --- | --- |
| Pilsner (2 Row) Bel | 4.75 lbs | 86.36 |
| Munich Malt - 10L | 11 oz | 12.5 |
| Melanoiden Malt | 1 oz | 1.14 |
Hops
| Name | Amount | Time | Use | Form | Alpha % |
| --- | --- | --- | --- | --- | --- |
| Saaz | 1 oz | 60 min | Boil | Pellet | 2.6 |
Yeast
| Name | Lab | Attenuation | Temperature |
| --- | --- | --- | --- |
| German Ale/Kolsch (WLP029) | White Labs | 75% | 65°F - 69°F |
My efficiency suffered greatly with this batch, as I was only able to get a measured efficiency of 55%, where I was shooting for close to 70%. I nailed my ph numbers, and was scratching my head on this one. After reviewing my notes, I realized I didn't tend to the mash as much as I should have. Lesson learned for me out of this one, stir the shit out of things during the mash! Needless to say I was rather disappointed, but none the less, was looking forward to tasting my first Helles.
After 6 days of primary fermentation at 65 degrees, I bumped up the temperature to 69 degrees for another 4 days. I then cold crashed for 48 hours before fining with gelatin, and let things sit in my early December Michigan garage for another 2 days before kegging.
Not a bad looking beer…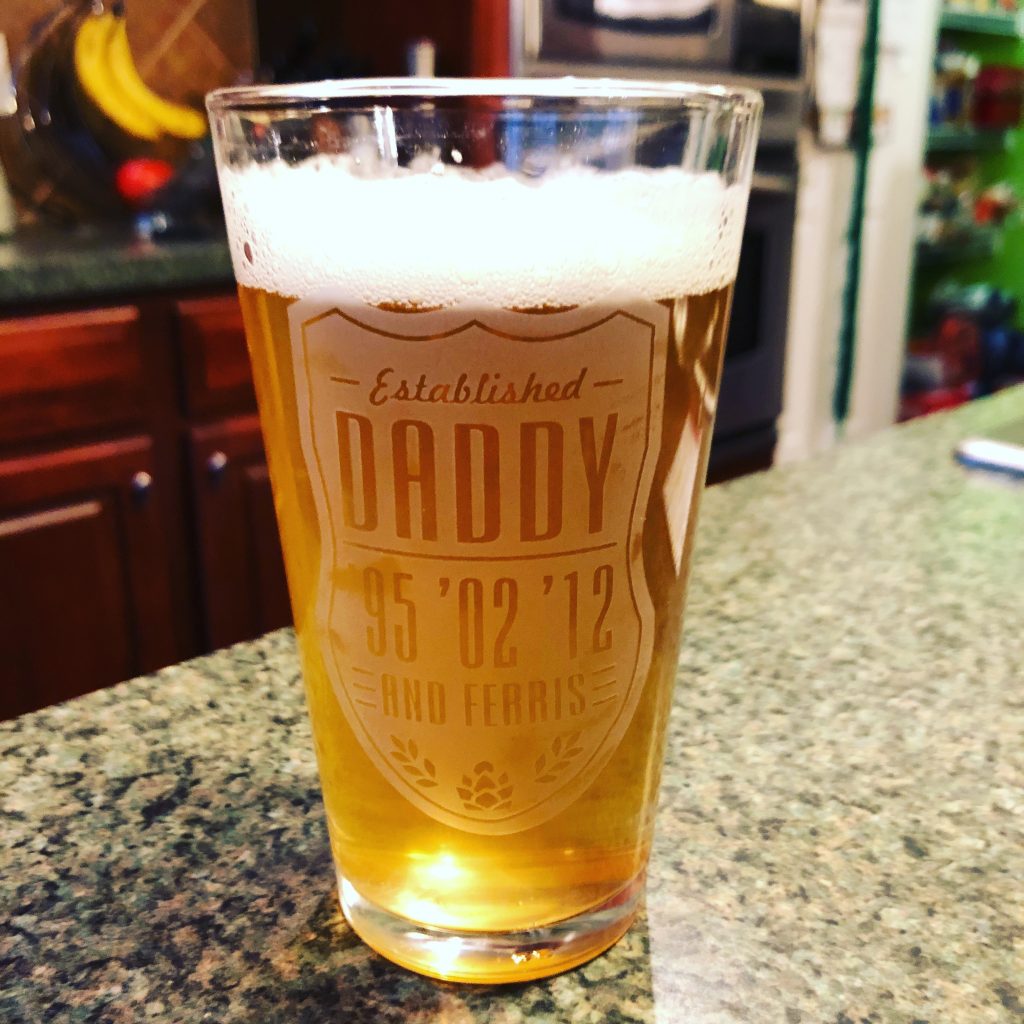 Saaz Hops Profile
Before we get into the Saaz hops profile, let me tell you how the beer turned out.
Simply amazing! Even though my efficiency numbers blew, this was an awesome tasting beer. A very nice malt forward taste that came through on both the front and back. This was balanced nicely by the Saaz hops to impart a very delicate spice to the beer. I'll definitely be brewing a Helles again, although using a different recipe to try a few new things out.
So what about the Saaz hops?
Aroma
They say you'll get a delicate herbal, spicy, or earthy profile from Saaz.
That's pretty much what I got. While I didn't perceive much earthiness, I was definitely able to glean a spicy and/or herbal aroma from Saaz.
Now I didn't go crazy with the hop additions, I intentionally kept the IBU's under 20, as my main intent was brewing a nice Helles. I'm guessing if I went with a higher concentration of Saaz hops, the aroma profile would have shown through a bit more.
Taste
The taste profile from the Saaz hop was easy to pick out for me.
What I taste is perfection. Very, very mild hop characteristic that borders on spice, almost pepper. I detect a hint of earthiness (maybe) but definitely more spice. Very mild and not overpowering at all.
Independent Samplers
I sort of kept this Munich Helles to myself, it was so damn good. While there were a few samples floating about, I wasn't too concerned with having my samplers identify hop characteristics. I simply wanted them to enjoy a very fine beer.
Would I Use Saaz Hops Again?
For sure!
Let me put it this way. I really liked what this noble hop did for this beer. I'm not a huge hop head, and while I appreciate a nice hop flavor and aroma in my Pale Ale's, it was nice having a very reserved hop aroma and taste in this Munich Helles.
So while I would use Saaz hops again, I would also play around with the other noble hops to see what characteristics they impart in my beers.
Given this was my first brew using noble hops, consider me convinced that this will be something I'll be using again in future brew days.
Cheers…