About a year ago, I discovered Tavour, a craft beer delivery service that ships craft beer directly to your door.
The concept is pretty cool. Every day Tavour offers 2 new craft beers that supposedly you can't get where you live. If you see a beer that sounds intriguing you claim it, if not you simply pass on it. Your selected beers ship every 4 weeks, all for a flat fee of $14.95.
If you want to save $10 on your first beer order, who can say free beer, keep reading as I've got a promo code for you to use at the end of this post.
After signing up for the service, my initial excitement faded rather quickly when I discovered they don't ship to Michigan. Or do they???
Does Tavour Ship To Michigan?
As of this morning, August 21st 2019 Tavour does ship to Michigan. I received the following email this afternoon: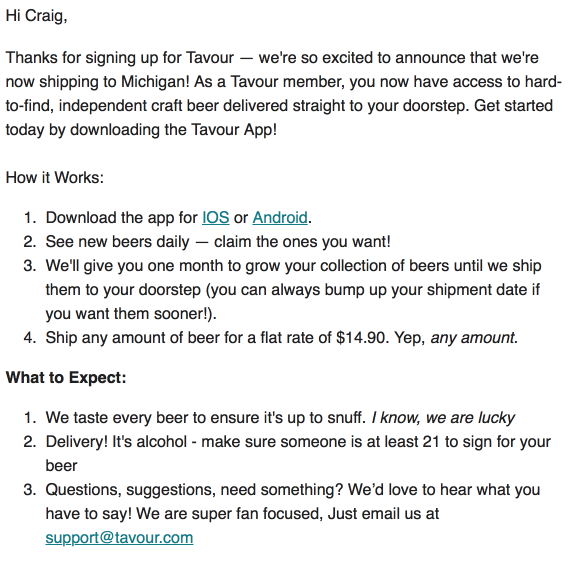 Apparently when I signed up for the service, I asked to be notified when shipping to Michigan was allowed.
So there you have it. If you happen to live in Michigan and want to partake in Tavour's craft beer delivery service, you might want to check them out.
I'm going to give it a go, and I'll write a review of my findings after I receive that initial shipment.
As promised, use this link to download the Tavour app, and you'll receive a $10 credit to use for your first beer purchase.