Brewing a lager doesn't need to be difficult, even if you can't ferment at traditional lager temps. Given that, let's find out how a warm fermented lager turns out.
The challenge with creating a Pilsner or Lager is the need to ferment at cooler temperatures then you would with a traditional Ale. That's makes it somewhat difficult for homebrewers that don't have a dedicated fermentation chamber, and need to ferment their lagers warm. If you need to ferment your beer somewhere in the neighborhood of the mid-50's, but don't have a means to cool your fermentation, do you not make a lager?
That seems silly to me. So what happens when you brew a Pilsner, using a lager yeast, and ferment at warmer then recommended temperatures?
A warm fermented lager.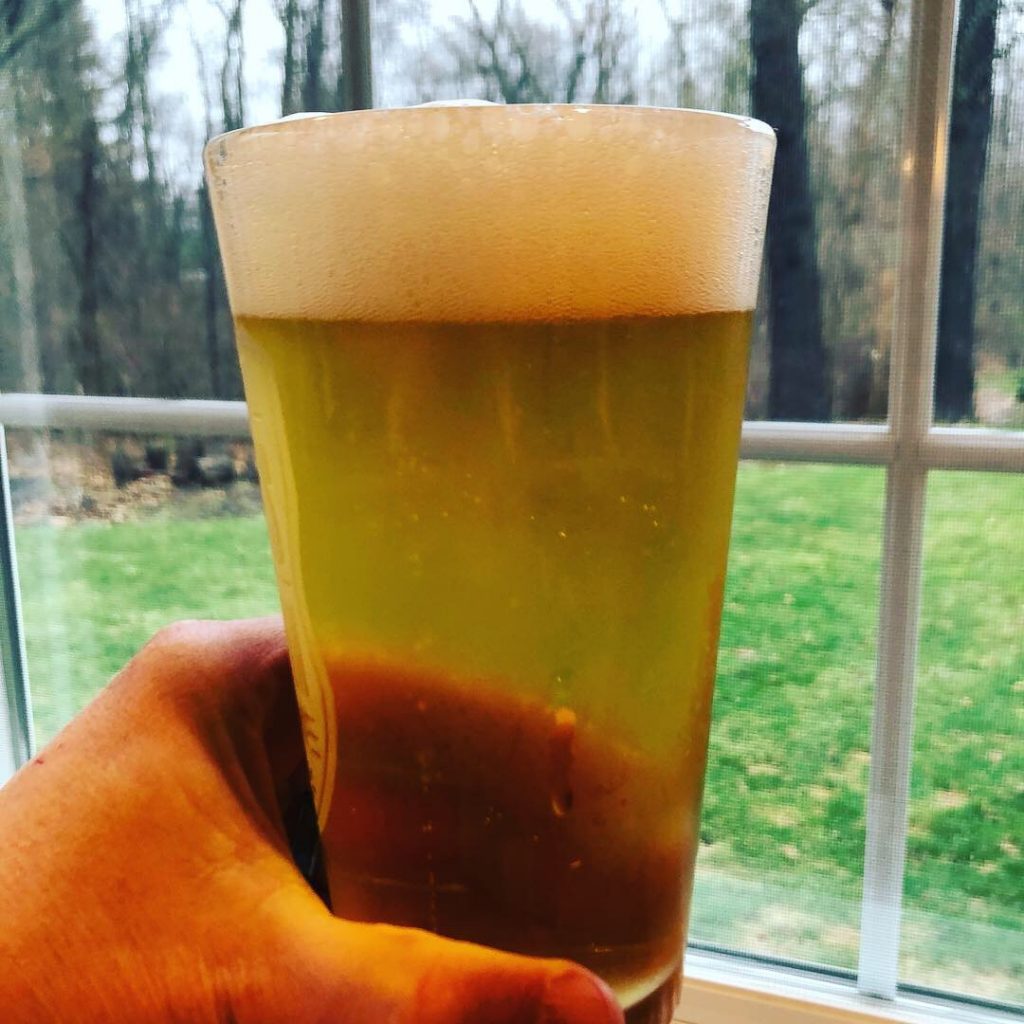 My Fermentation Challenges
Lager yeast is meant to ferment cool, well at least cooler then Ale yeast.
What's cool? Well if you look at one of the more popular lager yeast strains, White Labs German Lager yeast (WLP830), the optimum fermentation temperature is listed at 50 – 55 degrees Fahrenheit.
I ferment in my basement, where the ambient temperature hovers between 60 – 62 degrees pretty much year around. So when I brew an Ale, I need to raise my temperature up to the mid or upper 60's.
I've got a kludgey setup that blows heat from a small portable heater into a self made "fermentation fort" made out of blankets. That heater is hooked up to a temperature controller, where I have the temp probe attached to my plastic carboy. Don't laugh, it works.
While this works great for my Ale's, I don't really have a means of cooling the thing down for lagers. Given the fact that I like to keep my homebrewing as simplistic as possible, I don't have the energy to deal with a Swamp Cooler.
Since I love the crisp taste of a well made Lager or Pilsner, I really wanted to try my hand at brewing one.
While I've seen various experiments on doing a warm fermented lager, I wanted to try it for myself to see how it would turn out.
My Warm Fermented Lager
I decided to try my hand at brewing a German Pilsner, well at least something close to a German Pilsner. I think it might be closer to being a craft lager, but what the hell, it will still test out the whole warm fermented lager thing.
The yeast I would be using for this warm fermented lager test would be White Labs German Lager yeast (WLP830). While the upper side of the fermentation temperature is listed at 55 degrees, I would be closer to the 60 – 61 degree mark.
Lakes Of Milford Lager
I ended up going with a mix of Pilsner, Pale, and Vienna malt, with a touch of Cara-Pils thrown in for head retention.
As for hops, I went with a combination of Tettnang and Hallertauer, looking for a bit of spiciness. While that's partially true, these are some extra hops I had on hand that I wanted to use up. Unfortunately, I could have used more then what I had on hand.
Recipe Details
Batch Size
Boil Time
IBU
SRM
Est. OG
Est. FG
ABV
2.3 gal
60 min
24.3 IBUs
3.6 SRM
1.048
1.010
5.0 %
Actuals
1.048
1.008
5.3 %
Fermentables
| Name | Amount | % |
| --- | --- | --- |
| Pilsner (Weyermann) | 3 lbs | 65.79 |
| Pale Malt (2 Row) US | 1 lbs | 21.93 |
| Cara-Pils/Dextrine | 4.96 oz | 6.8 |
| Vienna Malt (Weyermann) | 4 oz | 5.48 |
Hops
| Name | Amount | Time | Use | Form | Alpha % |
| --- | --- | --- | --- | --- | --- |
| Tettnang | 0.67 oz | 60 min | Boil | Pellet | 3.9 |
| Hallertauer | 0.2 oz | 10 min | Boil | Pellet | 3.6 |
| Hallertauer | 0.15 oz | 0 min | Boil | Pellet | 3.6 |
Yeast
| Name | Lab | Attenuation | Temperature |
| --- | --- | --- | --- |
| German Lager (WLP830) | White Labs | 77% | 50°F - 55°F |
I created this recipe following my BrewGround BIAB process, but I eliminated the shortcuts that I normally take.
A few day's prior to brewing, I created a starter for my German Lager Yeast (WLP830), using my new stir plate.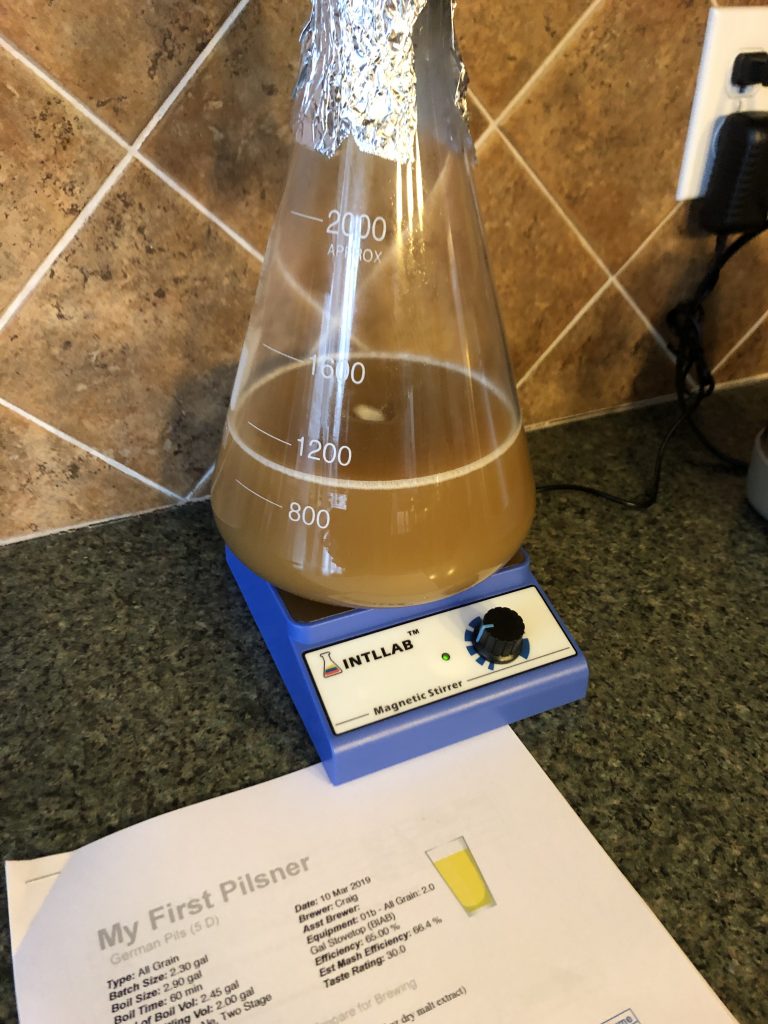 After mashing in my brew pot, I boiled for 60 minutes and did my three hop additions. I'll also add, I stirred the shit out of the mash every 20 minutes, and added a bit of flame to try to keep my mash temperature at the 151 degree mark.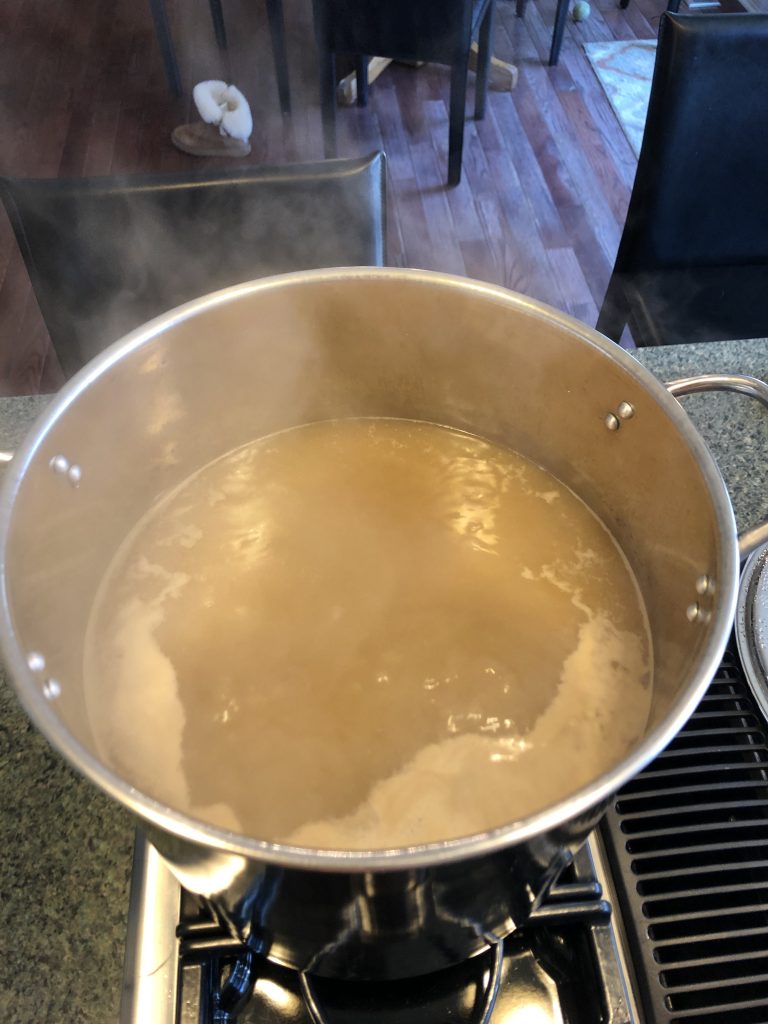 My original gravity was right where I planned with my assumed 65% brewhouse efficiency. This is inline with the efficiency I've been getting with my previous BIAB batches.
After cooling the wort down to the low 60's, thanks to my very cool spring ground water, I pitched my yeast starter.
My carboy was placed in the corner of my basement, without any aid to control fermentation temperature. I figured I would be fermenting in the low 60's, given the ambient temperature of my basement.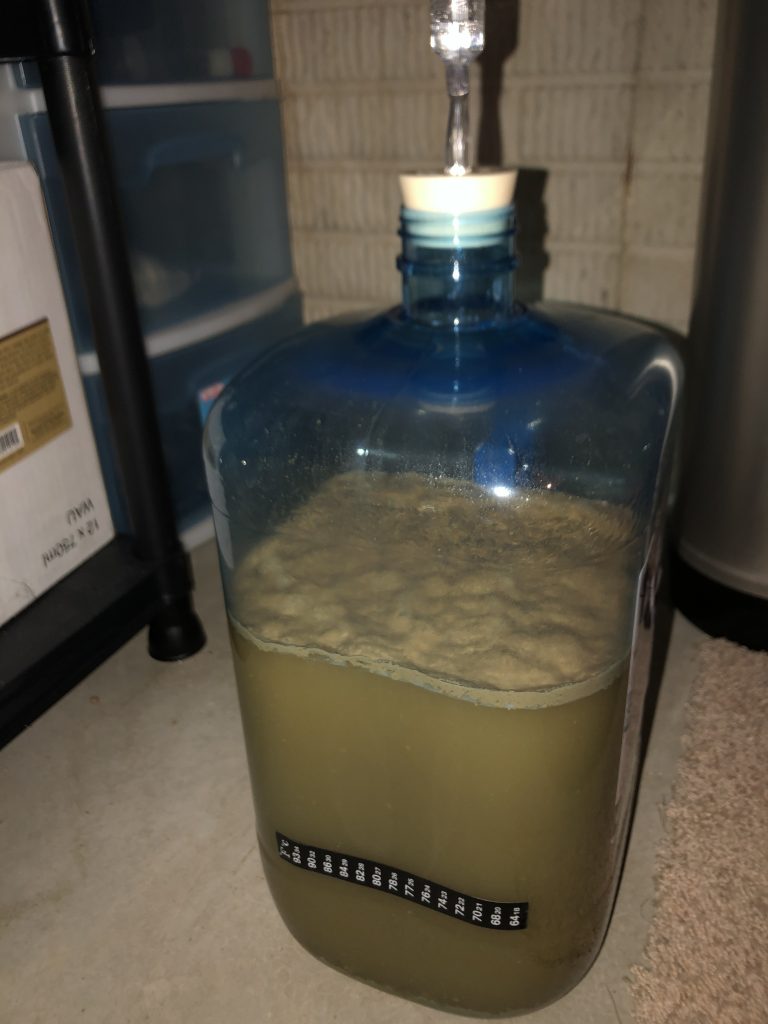 After 7 days, I ramped up the temperature for a diacetyl rest. Surprisingly, I found the temperature at a very cool 59 degrees once in my makeshift fermentation fort. That was a little cooler then I anticipated for my warm fermented lager, but still warmer then the guidelines for the yeast. I'm also assuming the temperature was slightly higher during the peak of fermentation.
I cold crashed and fined with gelatin before racking to my 2.5 gallon torpedo keg. The keg went into my kegerator, where it sat at 39 degrees for almost 3 weeks before serving.
Tasting Notes
Color: A medium yellow, almost golden color. 3.6 SRM as measured in BeerSmith.
Clarity: Wow, clearest beer I've made to date. Assuming the lagering had a lot to do with this. As clear as any commercial, mass produced beer I've ever purchased.
Aroma: Unremarkable, with maybe a slight hint of spice.
Taste: Not quite as dry or crisp as I was hoping for. Not to say this isn't a good beer, because it is. Honestly, one of the better beers I've made. Has more malt, maybe sweet taste that what I was shooting for. Possibly due to the abundance of Pilsner malt used in the grain bill. Definitely could have used more hops for that classic pilsner taste to offset some of the maltiness. I'll be changing that up in version 2 of this recipe.
Overall: This is a very good beer, given it was a warm fermented lager. A hint of spice on the aroma, but not a whole lot of character from the hops when tasting. The malt taste stands out a bit too much for me for a Pilsner. I'm guessing that could be toned down a bit with the right hop additions. While it does have a very nice malt finish, that is quite tasty, it's just not quite as dry as what I was shooting for.
Warm Fermented Lager Results
So I can't really compare to a cold fermented lager recipe, but that's not my intent. I wanted to understand if brewing a warm fermented lager would produce a drinkable beer. It most certainly does. I'm a little disappointed that my recipe was a bit off with the hops, as I wasn't able to ascertain a whole lot of bitterness like I would with a traditional pilsner.
I'll be making some changes to this recipe, and I intend to ferment that at the same temperature as I did for this beer. I'm very interested in seeing if those changes result in a significant taste difference.
I'll be sure to post those results here.
Cheers…